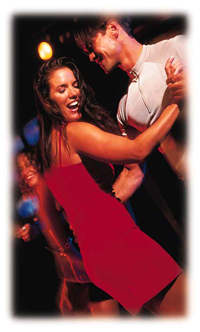 ORLANDO TOURISM
Orlando Nightlife
Whether you're looking to dance the night away, watch a show-stopping performance or just relax with a cup of coffee, Orlando brings the nighttime to life.

Of course, the fun doesn't stop when the sun sets in Orlando. Experience Downtown Disney's three extraordinary nightspots - Downtown Disney Marketplace, Downtown Disney Pleasure Island and Downtown Disney West Side - each with their own share of outstanding entertainment.

At Downtown Disney Marketplace, you'll dine, dance and see live performances. At Downtown Disney Pleasure Island, you'll experience a '70s disco, an '80s beach club and a '90s dance club, filled with thrilling live entertainment. And Downtown Disney West Side has everything from pulse-pounding performances at Cirque de Soleil's La Nouba to jamming musicians at the House of Blues. At Disney's Boardwalk, swing on over to Atlantic Dance or help piano players belt out and act out audience requests at Jellyrolls. And, UNIVERSAL Orlando has recently opened CityWalk, where you'll find live entertainment, dancing, dining and shopping. Venues include Bob Marley - A Tribute To Freedom®, Jimmy Buffett's® Margaritaville® NASCAR Cafe® Orlando and Hard Rock Live¨ Orlando. Downtown Orlando's Church Street Station offers an array of restaurants, unique shops, and music, including Country & Western, Dixieland jazz and rock and roll. Also downtown, you'll find discos, coffee and Martini bars and live music, from blues to Latin rhythm. Pointe*Orlando and International Drive have plenty of hang-outs that are sure to keep you smiling all night long. Park Avenue in Winter Park, a European-style avenue dotted with small boutiques and outdoor cafes, is perfect for a peaceful stroll to cap off the night.